Hello! A double dose of Sunday middle-grade goodness today, as I've missed a couple of weeks. So here are two brilliant, but very different books, perfect for lightening up the last month of winter – and reflecting the humour, range and verve of British children's literature at its very best.
Gareth P Jones, award-winning author of
The Considine Curse
,
The Thornthwaite Inheritance
,
Constable and Toop
, and
No True Echo
, returns this January with
Death or Ice Cream?
, a splendidly bizarre and perturbing series of interlinked stories, set in the sinister town of Larkin Mills. Here, hotelier Harold Milkwell has a flourishing sideline in the undertaking business; Mr Morricone sells criminally delicious ice creams in perturbing flavours (Chocolate Casualties, Drive By Double Cones, Lead Boot Lemon Lushes); musical instruments are repaired by an enigmatic craftsman, at unexpectedly exorbitant cost to their owners; and an egg that bestows both life and death is uncovered by an absent-minded archaeologist. Waxworks, zombies, cement hearts and chocolate-dipped strawberries; it's all to be found in Larkin Mills, where figures of mysterious supernatural stature shape the lives of the townspeople at whim, either for good or evil. And does one of them appear to have – horns…?
Jones' mordant, unsettlingly funny writing and boundless imagination ensures that reading his newest book is like navigating a funhouse while eating an ice cream sundae – intensely enjoyable, but compelling the reader's full and careful attention throughout.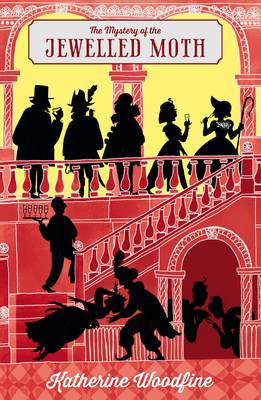 The Mystery of the Jewelled Moth, meanwhile, Katherine Woodfine's second book, which publishes on the 25th February, is the eagerly anticipated sequel to last year's
TheMystery of the Clockwork Sparrow
– and one of the finest novels I've ever read, marrying the danger, swift pace and Strand Magazine strangeness of the best Holmes adventures with the crisp detail and delicate sensibility of Georgette Heyer's romances.
Sophie and Lil are busy. It is the height of the London season, and ladies young and old are flocking to Sinclair's Department Store for gowns, hats, gloves and gossip. But when they receive a mysterious note, requiring their aid in another piece of detective work, shop girl and mannequin must team up once again with Joe the stable-hand and office boy Bill Parker. Where is the Jewelled Moth, set with a cursed Chinese stone, the Moonbeam Diamond? Whose is the body drawn from the river one balmy summer afternoon? And what could one young lady's modish coming-out party possibly have to do with Sophie's old enemy, the criminal mastermind known as the Baron?
This isn't an escapist romp, for all its pulse-quickening excitement. In her second novel, Woodfine delicately lays bare the nuances of stratified, often stifling Edwardian society; from the debutantes who suppress their appetites and curiosity to achieve creditable matches, to the poor Limehouse shopkeepers who must pay extorted protection money or risk their lives by refusing. Young Chinese-English girl Mei Ling is a fascinating addition to the original cast, with her grandfather's heaped-up, treasured stories providing a strong, transporting sense of her history and context.
But my favourite element remains heroic, quick-witted Sophie, never repining over her circumstances or waiting for a fairy godmother (or a comfortably-off gent) to bestow a life of leisure upon her. As a Sinclair's shop-girl, she works hard, and takes pride in doing so. And she heartily enjoys the pleasures she's earned: iced buns for a birthday tea, strong-forged friendships, and the joy of using her brains, courage and determination to overcome adversity. Her world might be the mannered, patterned, silk-and-homespun world of Edwardian London; but it's hard to imagine a better contemporary heroine.